"

The Communists have been consistent in their demands for the church restitution law to be revised and for the money to be taxed. It is one of our key conditions in return for tolerating this government. If this condition is not fulfilled it would create a huge problem since our members and supporters consider it of immense importance."
As efforts to form a new minority coalition government of the ANO party and the Social Democrats tolerated by the Communists reach their final stage, the Communist Party has been milking the situation to its best advantage. After rocking the boat over the country's foreign missions, the party now says that unless its bill on taxing Church restitutions passes through the lower house the two parties can look for support elsewhere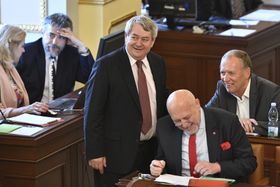 The Communist Party is experiencing an unexpected twist of fortune – after its worst election result in years, the party is on the brink of breaking into top-level politics with an unprecedented influence on government decision-making.
Prime Minister Andrej Babiš, whose ANO party won the last general elections by a broad margin, has struggled hard to gain partners willing to close their eyes to the fact that he stands charged with EU subsidy fraud. As a result, Babiš has been forced to give the Social Democrats, who also did poorly in the last elections, a more than generous share of ministerial posts and policy concessions and come to terms with the fact that his government would have to rely on support from the long-ostracized Communist Party.
For the Communists this is an unexpected chance to make good on their election defeat. In addition to various policy concessions in the social field, they recently made themselves heard that they were not prepared to tolerate the country reinforcing its presence in foreign missions – something the cabinet had already pledged to do. In the end a compromise was reached and last week the lower house approved the reinforcement of Czech troops in Iraq, Afghanistan and Mali by 275 soldiers this year. However the Communists are still fighting the idea of Czech pilots taking their turn to protect the airspace of the Baltic States in 2019 without a UN resolution.
Then, in a Czech TV debate on Sunday, the head of the Communists' deputies group, Pavel Kováčik, said the party would only support the emerging minority coalition, if financial compensation paid to churches for property seized during the communist era is taxed. This is something the Communists have pushed for since the respective compensation agreement was reached in 2012. Now an amendment which would level a tax on some of the restitution money is in its second reading in Parliament and the Communists want to ensure its smooth passage. Pavel Kováčik.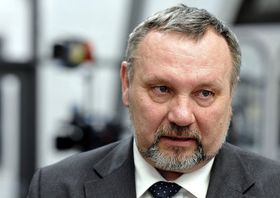 The Communists will not have to ask twice. Prime Minister Andrej Babiš has already said he considers the restitution sum overinflated by some 54 billion crowns and his party already supported the bill in its first reading, as did the Social Democrats and the Freedom and Direct Democracy Party.
Given these circumstances, it would appear that the Communists are flogging a dead horse, but in this case their newly tabled demand is likely intended for the ears of their supporters in an effort to boost the party's flagging popularity, as is the statement that none of the potential government's future decisions can count on apriori support from the Communists.