By Adina Kutnicki
WHENEVER a shooting (or another rampage) occurs, especially within a school environment, the media's focus is invariably intense. Well and good.
HOWEVER, due to the PC captive nature of America's so-called media, important facts are often omitted, that is, if they don't fit into the prescribed leftist narrative. Whores.
ON this end, as an aside, the killing of (UCLA) Professor Klug sparked special interest on multiple levels. As night follows day, it was expected that the biased media would, one way or another, lie by omission or commission – and they did! Moreover, not only were the principals involved talented engineers, but it came to light that there was also a Caltech (California Institute of Technology) intersection. Well, let's just say that the radar within was more than peaked.
THAT being said, the murders of Professor Klug and Mainak Sarkar's estranged wife, Ashley Hasti, a 31-year-old medical student, exposed, once again, the unholy depths which the "Fourth Estate" has sunk to; as little more than "glorified" paid whores for the political left's spin machine. Propaganda-like.
EVEN more so – and before we segue to the heart of the matter – it is mandatory to hark back to another recent "omission", one which aligns with the same lying media "narrative."
WHO recalls a Nov. 10, 2015 commentary, incidentally, featuring a Muslim student who went on a stabbing spree at U of C Merced? It is more than germane.
(Facsimile of weapon used by Islam's soldier for Allah at U of C Merced)
WHILE all campus rampages garner news headlines – as they should – when it comes to certain PC protected classes (whenever they are involved in murderous acts, even when outside campus quads), well, digging into the true motive is clearly off the table. Verboten. In other words, suppressing the driving factor is the "norm." Not only that, grabbing onto any snippet which obviates connecting the dots becomes the media's main objective – the "real headline", the heretofore prescribed narrative.
HENCE, the mendacious reportage on the most recent (STABBING) carnage at U of C Merced. Think of it as "the dog ate the homework or "the devil made them do it" excuse, or some such obvious lying drivel. However, in PC media omerta scenarios – unlike garden variety liars who attempt to pass the buck – lying will inevitably and directly lead to deadly consequences. Most resolutely, in the U of C Merced stab-fest, its underbelly couldn't be more of a red flag, even if a matador was retained to blare said warning to the public. No exaggeration.
BUT before we get to the meat of today's media disinfectant, let's veer back to how deep in the tank so-called mainstream "reporting" is, relative to truth-telling.
MORE specifically, did anyone hear about the following "tidbit" from US media sources (except for one), that which was indicative of his real jihadi intent, rather than the narrative spun that he was upset at being kicked out of a study group? Do pigs fly?
"He had a smile on his face," the victim said. "He was having fun."
REGARDLESS of all the tall tales, it must be noted that certain members of law enforcement are not fooled by Obama Inc.'s media directives, even if they are stating/lying otherwise before the public. How so? Well, the fact that the bomb squad was called due to the suspect's backpack, it suggests that despite the Sheriff's jive-talk before the media, he recognized that bomb-laden backpacks are signature hallmarks of Islamic jihad! Warnke said the bomb squad was called as a precaution because the suspect carried a backpack. Hmm…
INDEED, it was due to an unexpected intersection between media and law enforcement, surprisingly, a journalist in Merced with ties to local law enforcement (trust, they can be valuable sources…) was informed this and that. Hence, they knew he would drip…drip…
AND the drip went like this: Muslim student who stabbed four people and had plans to behead some was on an FBI terrorist watch list and the school knew about it.
Hmm.
DESPITE the warnings, apparently, nobody was watching Faisal Mohammad at the University of California – Merced. Authorities/Media rushed to call the stabbing spree by this Muslim student "non-terror related" but new information proves otherwise.
IN a nutshell, while there is little to suggest that Klug's killer had any linkage to jihadi elements, two obvious facts remain: he was definitely Muslim and Indian, and absolutely non-white. Incontestably, on both dual and basic levels, the captured media jumped straight into PC damage control mode, proferring lies of omission and commission.
INTRINSICALLY, on the one hand, they purposefully "(miss) labeled" him a "white male", thus, their lock-step lie of commission. Similarly, they left out his ethnicity and religion, hence, their lies of omission.
IN this regard, as always, the story which leads is the story which bleeds and sticks, truth be damned. In other words, the "narrative" was spun so that the public would associate another ! campus killing with some deranged white male who clings to his guns! Oh, hence, the implied need for gun control. More truthfully, omitting the fact that he was Muslim was meant to leave intact one of their sacred cows, Islam. Mind you, had he been Christian, rest assured, his religion would have entered the fray.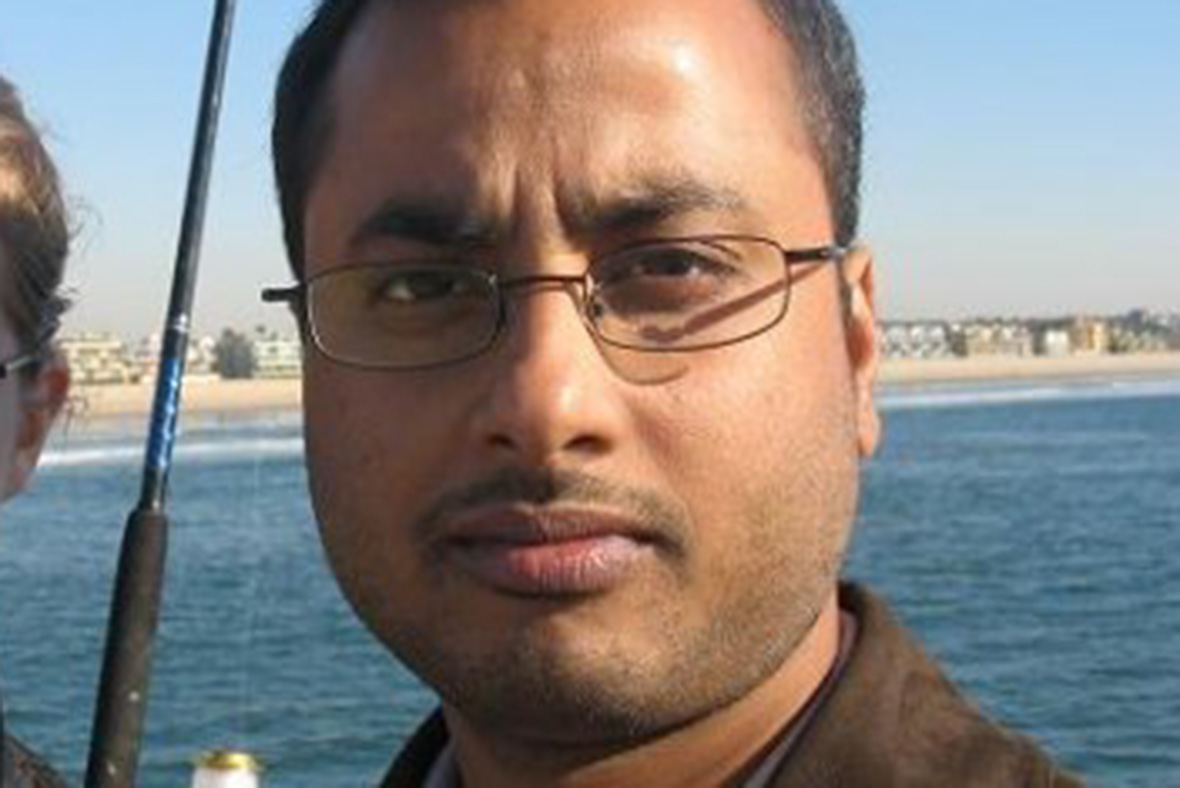 Mainak Sarkar
Email

msarkar@endurica.com

Gender

Died

Ethnicity

Bengali (via LinkedIn before it was taken down)

Born on

Cause of death

Suicide, gunshot wound to head

Occupation

Engineering Data Analyst and Software Developer

Nationality

Age

38

Religion

Former Employer

Related to

Address

St. Paul, Minnesota

Alma Mater

Indian Institute of Technology, Kharagpur




NOW that the facts are clear, onto the tragic death of a well-respected Prof, who had the terrible misfortune of becoming his murderer's Professorial advisor and mentor. Know that Sarkar publicly praised him for being the best mentor, and then turned around and accused him of stealing his computer code!

Klug, a professor of mechanical and aerospace engineering, and Sarkar appeared to have had a friendly relationship that at some point turned sour. In his doctoral dissertation, submitted in 2013, Sarkar expressed gratitude to the professor for his help and support.

"Thank you for being my mentor," he wrote. A 2014 doctoral commencement booklet listed Klug as Sarkar's advisor.

But in recent months, Sarkar lashed out at the professor in online postings. On March 10, Sarkar called Klug a "very sick person" who could not be trusted.

"I urge every new student coming to UCLA to stay away from this guy," he wrote on his blog. "He made me really sick. Your enemy is your enemy. But your friend can do a lot more harm. Be careful about whom you trust." He posted Klug's photo.

CLEARLY, he was operating from a paranoid and diseased mind, despite praise heaped on him – re his engineering skills – from his college teachers.




(This undated photo provided by the University of California, Los Angeles shows Bill Klug, a professor of mechanical engineering.)







Breaking news out of California where police have named the suspect in yesterday's murder-suicide at UCLA.

According to reports, the shooter was a former Ph.D student named Mainak Sarkar. Sarkar, a graduate of the India Institute of Technology with a Master's degree from Stanford, had allegedly accused Professor Klug of stealing his computer code and had been angry with the married father of two for weeks prior to the shooting: The student paper at UCLA had originally described the shooter as a "white male":

Shooter is described as a white male about 6 feet tall, according to sources.


— Daily Bruin (@dailybruin) June 1, 2016 The student paper at UCLA had originally described the shooter as a "white male":

Shooter is described as a white male about 6 feet tall, according to sources.




Not long after the shooting at UCLA yesterday, media outlets, including the school's paper, started describing the suspect as a "six foot tall white male," despite not having the full facts because, you know, "white devil" or something.

Well, the identity of the shooter has finally been rev

ealed, and it basically destroys the above mentioned narrative.

NOT to be lost in the analysis, UCLA's flagship paper, the Daily Bruin, feels equally unbound by the basic requirement of fact-based reporting. This was clearly exposed by how they played fast and loose without performing requisite due diligence. Effectively, they (among many of their peers within college campus newspapers) are likely the up and coming crop of journalists (miss)schooled just like their predecessors, unrestrained ideologues, liars, who happen to call themselves professional journalists.

IN other words, they are being taught without any ethics and integrity, that which necessitates an adherence to truth in journalism. In turn, a reckless disregard for professional due diligence is cast aside. Yes, to have reported that he was white without first checking this core fact, well, should they be relied upon to disseminate anything resembling objective reporting? Is this not worrisome? If not, why not? ABOVE all else, first and foremost, Bill Klug's loss is felt on a personal level; as an irreplaceable husband, father, friend and colleague. So too the death of Ashley Hasti, the Indian born Muslim's estranged wife, and her tale has yet to be told. Her death is no less tragic for her loved ones.

STILL yet, for the wider public, it is imperative to put emotionalism aside and look at the larger picture, and from a media-wise perspective. Ask yourselves: what are the knock-on effects of continuous lies from the media? Has the heretofore invisible line within democratic countries between government, their lapdog surrogates (many of whom are non elected elitists) and the "Fourth Estate" become null and void, instead of serving as a watchdog for the people?

CONSEQUENTIALLY, it is the bastardization of the truth which separates freedom-based countries from propaganda run dictatorships. To wit, it is up to seekers of liberty to decide whether or not America's "Fourth Estate" has lost its original mandate, as the "gatekeeper" between the government and the people.

READERS, you decide.

{

re-blogged at Conservative Firing Line

}