Sharia Law in Saudi Arabia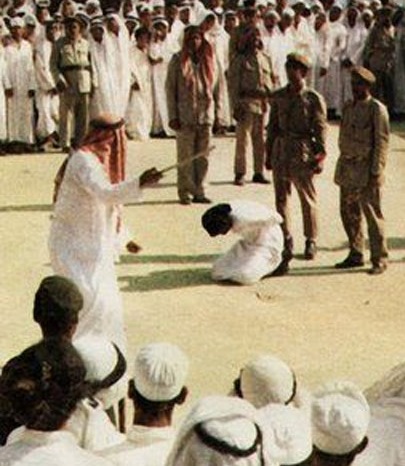 Saudi Arabia is the birthplace of Muhammad, Quran, Islam and the
Sharia Law
.
The country that most strictly applies the Sharia law is also Saudi Arabia, which does not have a parallel civil legal code (Shari
a
is the de facto Constitution of Saudi Arabia).
Shari
a
is enforced in Saud
i Arab
ia by
muttawa
, its religious police that seeks out and arrests violators to be flogged, imprisoned and/or beheaded (right). And being a foreigner provides no protection in Saud
i Arab
ia, which annually beheads more foreigners than its own citizens.
97% of Saud
i Arab
ia's 19 million citizens are Muslims, as are the majority of the 8 million foreigners who live and work in Saud
i Arab
ia.
Can non-Muslims practice their religion in Saud

i Arab

ia?
Non-Muslims are forbidden from practicing their religion in Saud
i Arab
ia, where Islam is the the only religion allowed. While Muslim groups rage about even the smallest perceived slight against Islam in non-Muslim countries, Saud
i Arab
ia crushes all non-Muslim religions within its borders.
There are no church buildings, and even a gathering of only Christians for prayers or to celebrate Christmas or Easter is forbidden. Christians and other non-Muslims are forced to eat halal foods that have been sacrificed to a pagan idol (see
Halal Meat
), observe Ramadan, and are forbidden from setting foot in Mecca, which annually welcomes 2 million Muslim visitors on hajj.
And while beheading its citizens who convert away from Islam, Saud
i Arab
ia is busy funding the
spread of Islam
in other countries to convert their citizens to Islam.
Saud
i oil profits, in particular, play a significant role in
building mosques
and madrasas around the world, and are often funneled though the
Muslim Brotherhood
.